Gamerman back for another grand review!
Due to a 'special request' (one person), I have decided to do a review on an RPG for the PC that I truly enjoy.
So here goes the review for..
King's Bounty: Crossworlds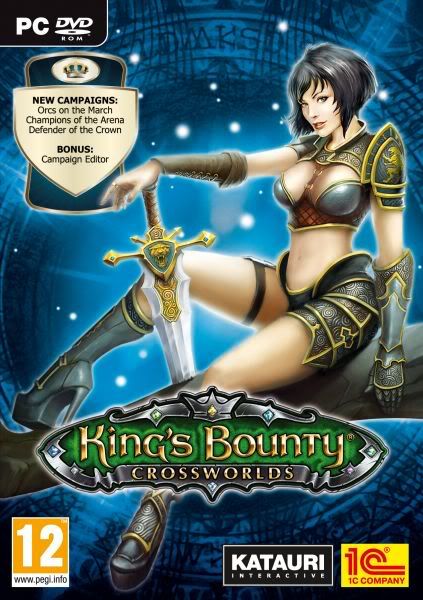 Quick back story. I bought this game, along with a hundred others, when it was on sale during the epic Steam Christmas sale. At first I had no idea what to expect, I like RPGs but this seemed to delve into the hardcore Might & Magic audience and it does but it has its own specialties.
Story
You are a princess and your kingdom is under attack by a large demon that was had supposedly beaten in the first game. It is back for revenge and it is knocking on your door ready to kick your ass. Luckily you are not without a plan, your father gives you the Hourglass of.. something that allows you to travel to another world in order to find the brave knight who defeated the demon in the last game. Your task was to give the hourglass to the king's counselor but your bullheadedness causes you to go yourself into the vast world and search out the knight. In this crazy new world you experience monsters like none before, you are given a task to collect these magic stones in order to make yourself more powerful, and you've still got to find the knight! It tries to do a lot but sadly it fails at sucking you in. In the end it's just a block of words preventing you from fighting some battles. You don't really care if you get the knight, just that you are level 100 before it happens.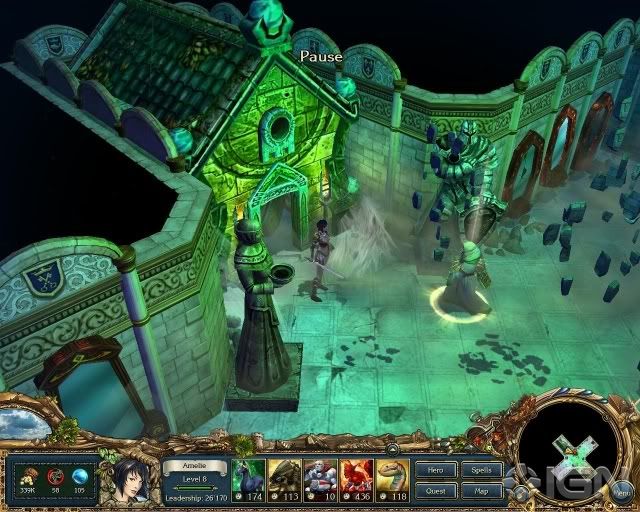 This ain't your regular tomb.
Gameplay
The gameplay is what makes and breaks this game. It gets really difficult very fast and you WILL die multiple times so you better save. The battles take place in a Might & Magic strategy RPG setting. You control multiple units through battle (5 tops) and place them around the board each turn. You can attack and you can defend. You are also given a pet dragon that attacks for you every so often, it also levels up with how often you use it. It can be very useful when you are in a bind with a powerful enemy. There really isn't a strong loot system in place. You often don't get weapons or anything from enemies and when you do they usually are worse than your starter equipment (why?!). Instead you buy all your supplies at stores on nearby islands.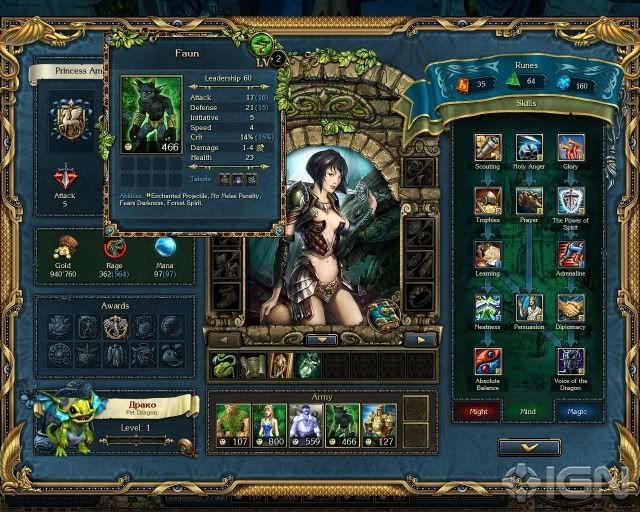 The majority of the game takes place on islands and the enemies are visible on screen and on radar. Clicking above them will also show you the power of the group and whether you stand any chance of taking it on. It's good fun to try to take on strong enemies and even more fun seeing weak enemies cower in fear. However it quickly wears off and you get to many points in the game where the enemies are always just too strong, no matter what you do. It involves a lot of grinding and unnecessary quests to even stand a chance to these enemies. This may scare off a few easy-going players but the hardcore RPG fanatics will see this as a plus.
Presentation
The world discovered in Crossworlds isn't the greatest fantasy world of the ages but it is simple and colorful though. It doesn't strive for anything new. It's set in an animated environment akin to those found in Might & Magic but a little more cutesy. Each island has a nice feel to it. Even if all that changes is simple weather changes or enemy changes, you feel like you're on a different place every time you travel. It's good tactic to draw the player in.
Overall
King's Bounty: Crossworlds is a great game but it throws a few lacking punches. The dialogue in this game is horrendous, you will hate talking to any NPC because all they do is jabber on about quests in the longest way possible. They could have made speaking to them more interesting but instead you'll find yourself skipping what anyone has to say and concentrate on the quest objective. The soundtrack is pretty generic too. It doesn't necessarily add to the experience most of the times and you'll usually hear a few repeating tunes.
Giant.. turtle monster. Does it get any better than that?
But that doesn't change that this is still a fun game, it's just. not for everyone. If you are a hardcore RPG enthusiast, you'll be playing this for the grindfest, not the story. It's not a hugely deep experience but once you hit your stride, you will not want to put this down (I've got 17 hours on it). If you are not into the other type of games into this genre, you will probably want to give this game a pass.
Overall I'm giving this a Gamerman
7/10
Please give me suggestions for anything else to review, I'm always open to ideas.
Let me clarify. The 35$ comes with Armored Princess, Crossworlds, and The Legend.
The 15$ one just comes with the new Crossworlds game.