Before Gamerman heads to school, there's one game I would REALLY like to review.
So here goes my second review!
Bully: Scholarship Edition for the PC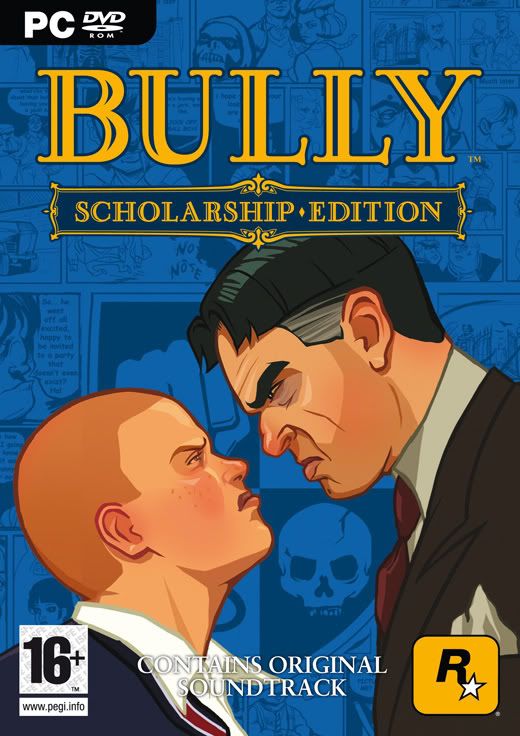 Now let's start with..
Story
This game's story isn't nothing groundbreaking though it isn't the premise that is eye-catching, it's the way they use it. The plot starts off with Jimmy, an obviously bad-egg, being dropped off at a new private school because he was expelled from another. There he befriends... and then beats up.. then hooks up with ;). This is an anarchist approach to school and it's a doggy dog world at Bullsworth Academy. The game doesn't take too many different approaches with the way things are usually done but instead polishes them and proves that there is no bland storyline, just bad writing!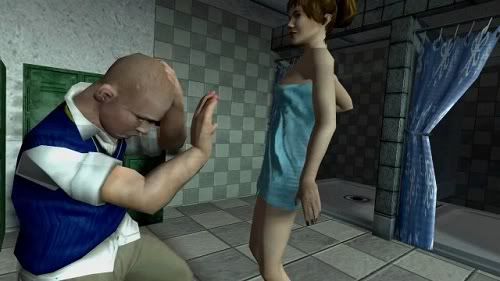 Can't touch this
The story will keep you hooked from start to finish, there were a couple of 5 hour sessions I had because I just could not stop.
Gameplay
This game is FUN. No question about it. If you've ever played any of the Grand Theft Auto series, you'll know why. The freedom this game gives you

is enormous and Gamerman LOVES it! The gameplay is real simple now.. You are either beating stuff up or playing mini-games so you can beat stuff up better. The perfect man's game.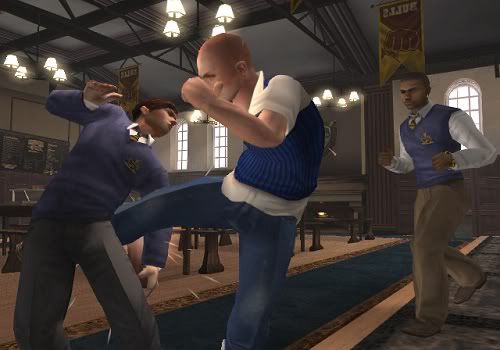 ROUNDHOUSE KICK!
There are different arrays of weapons coming from slingshots to potato launchers to eggs, this game just throws everything at you. One of the really fun things about being in a school setting is that there are classes to attend that help you overall with the game, even if it's just a bonus to health when you're kissing the ladies. I doubt you'll do most of the mini-games however, they are optional (depending on how fast you can run away). Instead of doing all the mini-games, I just did all the story missions. But that's me, I'm glad they put them in there because they ARE fun.
Graphics
They're aight. This game is new-old. It's kind of old because compared to graphics on right now, they are outdated. This doesn't stop the experience at all however, of course better graphics would increase the experience but they are not needed for this game. I'm not a huge graphics pusher so that's all for this section.
Replayability
Ever play Grand Theft Auto? Oh, five times you say? Same amount of times you'll be playing this puppy. Even if it's just for finishing those classes you didn't finish, trying to find ALL the damn collectibles, or just !@$#ing around, you will be back. I've replayed the story over and over and it never gets boring because they always throw in these missions that are an absolute BLAST to play. Trust me, it's fun.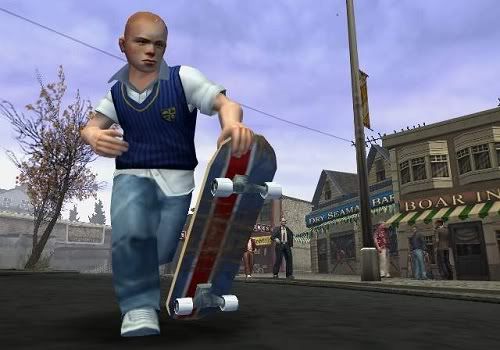 They see skatin', they hatin'
Overall
This game is nice, simple traditional fun. I'd compare it with great games like The Oregon Trail and NAHHH. This game is great, you can whale on people, you can.. whale on people AND you can.. Well you get it. There's so much more though. You explore, the characters are really fun and alive and you will love to hate them. The collectibles will have you grasping at straws and the bike races will leave you with something to do. There's options and that's always nice to have. I'm seriously recommending this game because I had such a blast with it, I believe you guys will too.
I'm giving this my first Gamerman..
10/10
It costs 15$ on Steam.
http://store.steampowered.com/app/12200/?snr=1_4_4__13
Grab it while it's hot ;)